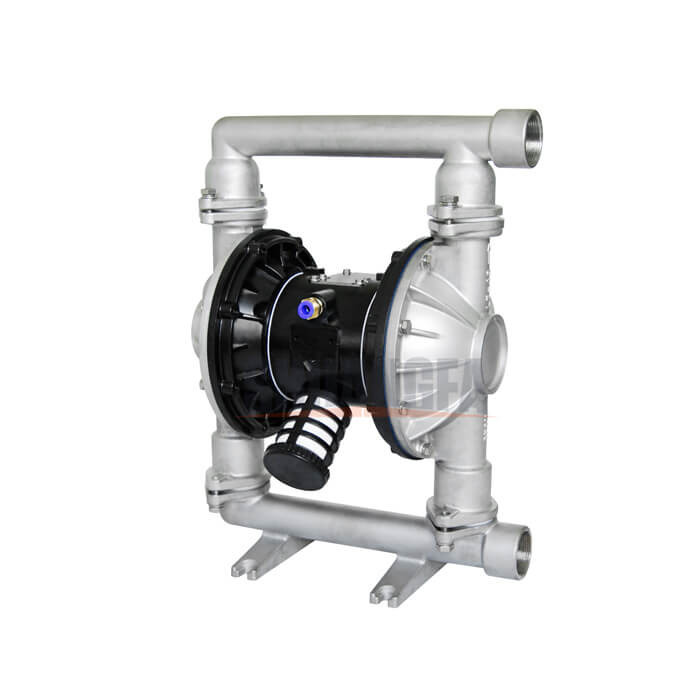 Air Diaphragm Pump
Diaphragm pump is always used as feeding pump for filter press, can convey different material, need work with air compressor.
Features
1 No need irrigation water, suction up to 5 meters, head up to 70 meters, the outlet pressure > 7bar.
2Wide flow and good performance, allows the maximum particle diameter of 10 mm.
3The pump has no moving parts, no seals, diaphragms exhausted medium and pump running parts, working medium is completely separated from the transmission medium does not leak out. So pumping toxic, volatile or corrosive media, will not cause environmental pollution and danger to personal safety.
4No need electricity, flammable and explosive places safe and reliable.
5 It can be immersed in the material.
6Easy to use, reliable, open stop simply open and close the gas valve.
Simple structure, less wearing parts, simple to install, easy maintenance.
It can transmit the adhesive liquid (viscosity less than 10,000 cps)
Application
1 Chemical industry: acids, bases, solvents, suspensions, etc;
2 Petrochemical industry: crude oil, grease, mud, sludge, etc.
3 Paint industry: resins, solvents, colorants, paints, etc.
4 Daily chemical industry: detergents, shampoos, lotions etc;
5 Ceramics: mud, ceramic slurry, lime, clay slurry.
6 Mining industry: coal slurry, magma, mud etc;
7 Water treatment: sewage, chemicals, waste water etc;
8 Food industry: vinegar, syrup, vegetable oil, soybean oil, honey, etc;
9 Beverage industry: yeast, syrups, concentrates, liquid mixture, wine, fruit juice, etc;
10 Pharmaceutical industry: solvents, acids, alkalis, plasma and other liquid medicines.
11 Textile industry: chemical dyes, resins, rubber and so on.
12 Construction: water slurry, ceramic tile adhesives, rock pulp, etc.
13 Metallurgy, casting and dyeing industry: metal slurry, hydroxides and carbides will, dust washing pulp etc;
Specification
Model
QBK-15
QBK-25
QBK-40
QBK-50
QBK-65
QBK-80
Max. flow rate(L/min)
57
151
378
568
568
1041
Discharge pressure(bar)
8.4
8.4
8.4
8.4
8.4
8.4
Sucked lift(m)
6
6
6
6
6
6
Max. allowance particle size(mm)
2.5
3.2
4.8
6.3
8
10
Max.air consumption(L/min)
672
1120
2240
4900
4900
9100
Material
SS304, SS316, Engineering plastics, PTFE etc.
Get in touch
Welcome to visit our website. If you need an olive oil production line, please write down any questions, we will reply as soon as possible.